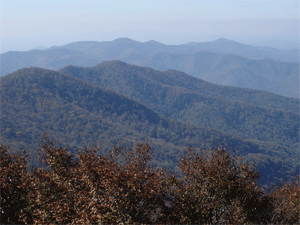 Cherokee Hiking Club
198 Crews Drive, Benton, TN 37307
---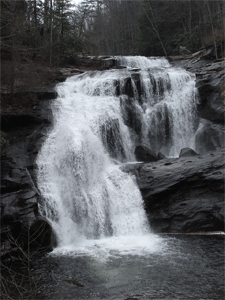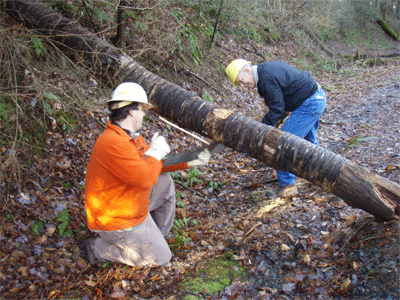 Trail Maintenance
Projects
2018
Jan Feb Mar Apr May Jun Jul Aug Sep Oct Nov Dec
Tellico Ranger District Worktrips
Benton MacKaye Trail Worktrips
Other Worktrips
Every Thurs - Tellico Trail Work Trips. See Tellico Ranger District Worktrips Facebook page
1/4 - Thursday - Tellico Work Trip - Rocky Flats Trail and Pine RidgeTrail in Citico Wilderness. Meet at the Ranger Station at 8 AM. Bring lunch and water and wear sturdy boots and long pants. We will be doing tread work on the Rocky Flats Trail and logging out the Pine Ridge Trail. Wear warm clothes, boots, gloves, eye protection. Bring water and a lunch. We can provide tools.. If questions, contact Rick Harris at HarrisRi@aol.com
1/11 - Thursday - Tellico Work Trip - Rocky Flats Trail, Fodderstack Trail, and Pine RidgeTrail in Citico Wilderness. Meet at the Ranger Station at 8 AM. One crew will continue working on logging out the Fodderstack and Pine Ridge Trails. Another crew will be doing tread work on the Rocky Flats Trail, and a third crew will be using sling blades to clear brush. Bring water, lunch, and helmet, gloves, and eye protection (we have loaners). Also wear sturdy boots and bring rain coat since there is a possibility of a shower (20%). It will be warm Thursday, in the 60s. For questions, contact Richard Harris at HarrisRi@aol.com
1/19 - Thursday - Tellico Work Trip - CANCELLED this week due to slick undrivable roads in the Tellico Ranger District
1/25 - Thursday - Tellico Work Trip - we will continue work on sidehilling on the Pine Ridge Trail. Meet at the Tellico Ranger Station at 8 AM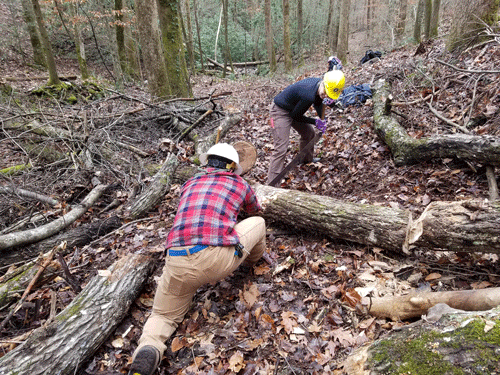 2/1 - Thursday - Tellico Work Trip - Pine Ridge Trail - We will continue to brush out and do tread maintenance of the Pine Ridge Trail in the Citico Wilderness this Thursday. We may also continue to log out the upper section of the trail with crosscut saw. Meet at the Tellico Ranger Station at 8 AM with sturdy boots, daypack with lunch and water, and if you have them - gloves, helmet and eye protection. If not, we can supply these along with the needed trail tools. If questions, contact Richard Harris at harrisri@aol.com
2/8 - Thursday - Ocoee Work Trip - Caney Creek Trail - The work trip this Thursday, Feb 8, will be on the Caney Creek Trail in the Ocoee District. The Caney Creek Trail takes you to the old Caney Creek Village which was a village without vehicles. See http://genealogytrails.com/tenn/polk/Caney_Creek.html for information on this very historic area. One crew will log out the trail and other crews will work on brushing out the trail. Meet at the Ocoee Hardee's at 8 AM ready to go with day pack, water, lunch, and, if you have them, gloves, eye protection and safety helmet. NOTE: WE WILL MEET AT THE HARDEE'S IN OCOEE at the intersection of US411 and US 64, just north on US411. If questions, contact Rick Harris at HarrisRi@aol.com
2/15 - Thursday - Ocoee Work Trip - Cooper Gap Trail - We will meet at the Maple Springs Trailhead at 8:00 for the tail gate safety meeting. From there we will car pool to the Cooper Gap trail. Reports are that there is a section where the little pines are encroaching into the trail. We will also log, and lop, brush out any other places on the trail that need it. It should be a much shorter day than last week. This is not wilderness, so we can use gas powered brush cutters.To get to the Maple Springs TH, drive on TN315 from Reliance or from Tellico Plains (via TN39) to Bullit Creek Road. This turn off is 7.2 miles south of the TN315/TN39 intersection or 7.8 miles north of the Reliance Bridge over the Hiwassee River. From here follow the signs for about another 2.3 miles. You will stay on Bullit Creek Road for 2 miles, then turn left onto Maple Springs Road right where Bullit Creek Road goes straight as an unpaved FS road. If questions, contact Rick Harris at HarrisRi@aol.com
3/1 Thursday - Tellico Work Trip - CANCELLED due to the expected 3 inches of rain
3/8 Thursday - Tellico Work Trip - Flats Mountain Trail - This Thursday we will be working logging out and brushing Flats Mountain Trail. Bring your favorite tools for and meet at the Ranger Station at 0800. Dress warm as it should be a bit cooler this week. Thanks for all you do and see you here on Thursday!
3/15 Thursday - Tellico Work Trip - Tavern Branch Trail - We will be working on the upper section of the Tavern Branch Traill. We will need a lot of loppers as well as some chainsaws. Meet at the Ranger Station at 0800. Thank you and see you all then.
3/22 Thursday - Tellico Work Trip - Bald River Trail - We will be working on some issues found on the Bald River trail. Some tread repair as well as clearing some trees will be the order of the day. Meet at the Ranger Station at 0800. We will have two crews, personnel permitting, one on tread repair and one clearing trees. Wear sturdy boots, bring lunch and water in a day pack. Bring helmet, gloves, eye protection if you have them. Otherwise we will provide them. This is Wilderness, so crosscut saws, swing blades, loppers, hand saws, and digging tools are in order. If questions, contact Rick Harris at HarrisRi@aol.com
3/23-25 - Friday-Sunday - Benton MacKaye Trail Work Trip Section 12 - Lost Creek CG to Kimsey Highway - Barry Allen is managing this trip, as follows: On the weekend of March 23-25, I'm heading to Tennessee to work on Benton MacKaye Section 12, between Kimsey Highway and Lost Creek Campground. My plan is to leave mid-afternoon on Friday and drive to Lost Creek Campground via Blue Ridge and McCaysville. I'll stay at the campground for the evening so that I can get out relatively early on Saturday. (This is a great campground for car camping, hammock camping, tent camping or trailer camping with the main road to the camp in great shape.) Weather permitting, I intend to work on Saturday and play on Sunday, maybe hiking between Lost Creek and the Hiwassee and possibly finishing the day with a fly rod on the river -- before heading back to Atlanta. This section of trail is a bit over six miles long but breaks into manageable two mile work segments. If we have a few more folks that would like to join us for all or a portion of the weekend, we'll try to break into teams and work two mile segments on Saturday, finishing by mid afternoon. Each team will need a certified sawyer and a chain saw, but much of the work can be done with hand saws and folding saws -- with some lopper and brush cutter work, primarily in the burn-over between McFarland and the tie in to the Forest Service road. BUT WE ALSO NEED BLAZES PAINTED, especially from Kimsey, over McFarland and down the old Forest Service route. This will be an enjoyable weekend -- no one will be allowed to work too hard. Anything that we don't complete, will still be there in April. So come join us for work or for play or just to sit around the fire.....It's an easy drive from Lost Creek back to the Blue Ridge area, so you are free to do whatever........ Let me know if you can join us so I can load up on the correct mix of tools and personal protection equipment. And bring an extra marshmallow, hershey bar and graham cracker for me! Barry Allen directly at bmtabarry@gmail.com
3/29 - Thursday - Tellico Trail Crew - Unicoi Mtn Horse Trail - This Thursday we will be working on the Unicoi Mtn Horse Trail north of Unicoi Gap. We will be logging and brushing out the trail. Be sure to bring rain gear, since it might rain in the afternoon. As usual, wear sturdy boots. Bring helmet, gloves and hat along with day pack, water, and lunch. Meet behind the Tellico Ranger Station at 8 AM.
4/5 - Thursday - Tellico/Ocoee Trail Crew - Starr Mtn Hiking Trail - We will plan to finish logging out and brushing out the Starr Mtn Hiking Trail. This is wilderness. Crosscut sawyers, loppers, and sling blades can be used. Larry Daugherty will be leading the trip as Bobby and Tazz have a meeting with Brandon. Meet at Maple Springs Trailhead at 8:00 for the tailgate safety meeting.
4/12 - Thursday - Tellico/Ocoee Trail Crew - Coffee Branch & Chestnut Mtn Horse Trails - We will be logging these two trails out. Meet at Maple Springs Trailhead at 8 AM. Chainsaws, crosscut, and loppers are the tools of the day.
4/19 - Thursday - Tellico/Ocoee Trail Crew - Indian Boundary Recreation Area - Although, April is our turn on the Ocoee/Hiwassee we will be helping with the special project of getting Indian Boundary ready to open. Meet at IBRA at 9:00 (Note time change from usual work days). Bring a side dish or desert to participate in the hot dog cook out.
4/23-25 - Monday-Wednesday - BMTA Maintenance Work Backpack Trip - Dick Evans and his crew are going to do a three day, two night work trip on the Stratton Bald to Hangover Section of the Benton MacKaye Trail on April 23-25. He would rate this trip as Moderate, but it will be all over 5,000 foot elevation. Here are the details:
Monday, April 23rd - Meet at Cheoah Ranger Station Parking Area at 3 PM. We will arrange carpool from there. We will drive to Wolf Laurel Trailhead and hike the roughly two miles up Stratton Bald Trail and over Stratton Bald. We plan on camping in the area of Black Spruce on the top, and watching the sun set over Slickrock Valley that evening.

Tuesday, April 24th - We will trim and brush cut on the Stratton Bald-Bob Area while we await the Forest Service ATV bringing up signs, posts, heavy tools, concrete, etc. They will bring the materials to Bob Bald, then leave. We will split into probably two groups, with one heading west to post the sign at end of the Stratton Bald Trail as well as one right at Bob Bald, and the other working easterly along the ridge to the Wilderness boundary. There, we will drop the mechanized tools and continue to Naked Ground to clear that campsite and water source, then proceed to Haoe and post the final sign, then clear along the ridge to Saddle Tree Gap and camp there for the night. After supper, we will go out on Hangover to watch the sun set and the moon rise, as well as seeing a brilliant Venus set shortly after dark over the Fodderstack Ridge to the west.

Wednesday, April 25th - We will return along the ridge, finish any trimming, etc, and clear Stratton Bald trail down to Wolf Laurel area. Probably be out around 2 PM or so. Please let Dick Evans know if you are interested in joining this effort at Richard Evans or Dick Evans@Frontier.com
4/28 - Saturday - TN/NC BMTA Maintenance Trip - Kimsey Highway to McFarland Rd -
On April 28, we will once again be traveling to Tennessee to work section 12, this time between Kimsey Highway and McFarland Road. For those traveling from Tennessee or driving from Georgia for the day, plan on meeting at the intersection of Kimsey Highway and McFarland Road (FS 23) at 9:00 on Saturday. This intersection is less than 1 mile from the BMT crossing on McFarland and just a bit further from the BMT crossing on Kimsey Hwy. (Please note, Kimsey Highway is in good condition from its access point on TN 30 while headed toward Reliance from Thunder Rock, but it is in poor shape from the access on US 68 by Vics Auto Parts all the way to the power lines.). Once folks are at this intersection, we'll plan our vehicles so work teams are covered at both BMT crossings. We'll work trail north from Kimsey to McFarland, blazing, logging and brushing out this 2.4 mile section. We'll need at least 5 folks to work the brushing/logging portion of the trail, with the remaining volunteers working on blazing. I expect to be done no later than 3:00 on Saturday afternoon. Currently, the long range forecast shows good weather..... ACCOMMODATIONS: Either Thunder Rock Camp Ground or Lost Creek Camp Ground are available for folks who want to drive in on Friday. Thunder Rock is a fee camp ground and does have running water; Lost Creek is no-fee with more primitive facilities. I plan to drive in Friday afternoon and stay at Lost Creek on Friday night and probably Saturday evenings. For those staying at Lost Creek, we'll work out a shuttle on Saturday morning to the main meeting spot at Kimsey/McFarland. For those wishing to join me on Friday at Lost Creek, I'm doing the cooking!!!!!

MENU:
Friday, 7:00 to 8:00 PM:
Home-made chili a-la-Sandra with brats, baked beans and coleslaw. Dessert will be berries and sliced fruits with whipped cream.

Saturday, 7:00 to 8:00 AM: Scrambled eggs and sausage with home-fries. Or for those needing a lighter breakfast, the rest of Friday nights' berries and sliced fruits with warmed over sticky-buns.

Lunch Saturday: Bring your own trail lunch and beverages

Dinner Saturday: ??????

Breakfast Sunday: ??????

Please let me know if you will join us just for the day on Saturday, or if you are available for the weekend and if you will be staying at a campground or just driving up for the day. Let me know if you are unfamiliar with the trail in this area and need better directions. (We'll work out meals for Saturday/Sunday based on turnout.) Thanks as always, Barry

5/3, Thursday - Tellico/Ocoee Trail Crew - Chestnut Mtn Trail - We intend to finish that last mile of Chestnut Mtn. There is one difficult, hazard tree to remove, and lots of rhododendron to lop. Meet at Lost Corral parking lot (across the railroad tracks from Gee Creek State Park at 8:00. Happy Trails, Tazz Reid
5/3, Thursday - Tellico/Ocoee Trail Crew - Chestnut Mtn Trail - We intend to finish that last mile of Chestnut Mtn. We were rained out last week. There is one difficult, hazard tree to remove, and lots of rhododendron to lop. Meet at Lost Corral parking lot (across the railroad tracks from Gee Creek State Park at 8:00. Happy Trails, Tazz Reid
5/10, Thursday - Tellico/Ocoee Trail Crew - There are a couple of projects to be dealt with. Meet at the station at 0800 and we will divide up then. Looks like one project will be crosscut work. Thanks, Travis
5/17, Thursday - Tellico/Ocoee Trail Crew - We need to make a hard push before the grand opening of the Tavern/Miller Trail and parking lot. Yesterday, Bobby and Joanne Mitchell came out with me and we weed eated the parking lot, cut overhanging branches on Miller Ridge and weed eated the connector trail. We need as many volunteers as possible to make a complete sweep of the Tavern Branch trail clearing any down trees since the last trip and weed eating. I look forward to seeing you all here at 0800 this Thursday…just keep an eye on the weather. Thanks!
5/24, Thursday - Tellico/Ocoee Trail Crew - Sorry this is late. I did not realize I was to send out plans this week, but we will be working on one last stretch of Tavern Branch. Loppers and weed-eaters will be needed. Also, if we have enough folks, a second group will continue on Fodderstack with the crosscut work. Meet at the Tellico Station at 8:00. Tazz Reid
5/26, Saturday - Grand Opening of Miller Ridge Horse Trail - This Saturday, May 19, is the opening of the new parking lot for the Miller Ridge-Tavern Branch horse trails in Tellico. FINALLY!! The forest service has posted signs on the Cherohala Skyway in Tellico ( highway165). You then drive 12 miles on the skyway toward Indian Boundary Lake. There is a sign for the turnoff for Miller Ridge horse trails on the Skyway. You turn left ....go straight thru the 4 way intersection and drive 1.7 miles to the turnoff for fs 2033, there is a black mailbox there. I personally think they need another sign here. New parking lot is .5 mile down that road. The club is cooking and you need to bring a side dish, drinks and chairs if you plan to come. We will meet to ride at 9 and plan to be back for the forest service dedication and lunch at 1:30
5/31, Thursday - Tellico/Ocoee trail Crew - Hogback Ridge, Starr Mtn - We will plan on logging out and weedeating Hogback Ridge Trail. Watch the weather and make your own choice on whether to come or not. Right now it looks soggy. Even if we get to work, be prepared to do some walking since the wildlife roads will be squishy. Chainsaws, brush blades, and loppers will be the tools of choice. Meet at Maple Springs Trailhead at 8:00. Happy Trails, Tazz Reid
May and June BMTA Work Trips - May and June are busy months for the BMTA on our Georgia and Tennessee trails, so let me take a moment to update a few of the upcoming events:
1) The Boy Scout work day originally scheduled for Saturday, May 5 has been postponed, so please take this off your calendar. If possible, we will do another event with the Scouts later in the year.

2) The decommission of the old trail at Fall Branch Falls is scheduled to begin this Friday, May 4. We have a group of volunteers from AT&T and the BMTA scheduled to help the Forest Service on this project. This work will involve four distinct jobs: directing traffic from the parking area onto the new trail, new sign installation, hand grading behind the Forest Service trail machine as water diversions are installed on the old route, and digging three short passing lanes on the new trail to the falls. We could use a few additional people for about three hours on Friday morning -- 9:00 to 12:00 at Fall Branch Falls -- if you have the time.

3) The May work date on Saturday, the 12th will be a project clean-up event. We will use our normal Saturday to finish any remaining work on the decommission of the old trail at Fall Branch Falls and to finish step repairs on the trail at Thunder Rock camp ground in Tennessee. Running two work crews spread over two states is a little ambitious, but we can do it!

4) Phil and Debra Guhl will be organizing the 4th Saturday work day for Tennessee, so stay tuned for details on this event.

5) National Trails Day is always the first Saturday in June. This year we are planning two events in Georgia on Saturday, June 2. For many years, we have participated with the GATC and MHH in events at Vogel State Park in the Blue Ridge Ranger District. This year, we will continue to support the BRRD at Vogel, but we will also help with an event at Dry Creek on the west side of the Conasauga Ranger District. Dry Creek is a trail open to hikers, bikers and horsemen, so our efforts this year will be to join with some other trail groups on Dry Creek for a day of work and fun in an area we don't normally see. George Owen will be heading up the event at Vogel and Dave Ricker and myself will be working on the Dry Creek event. If your schedule allows, please plan on attending one of these events on June 2, National Trails Day.

As always, I'll send reminders just before these events with additional details. Please let me know if you are able to attend.......

Barry
6/2, Saturday - National Trails Day Events - This year, as always, the Benton MacKaye Trail Association is encouraging membership to participate in National Trails Day. If you are unable to find a local park needing volunteer help, then consider joining the BMTA either at Vogel State Park or on the Dry Creek Trail System in the western portion of the Conasauga Ranger District. For several years, the BMTA, the MHH (Mountain High Hikers) and the GATC (Georgia Appalachian Trail Club) have teamed to improve trails in Vogel State Park and surrounding National Forest lands in the Blue Ridge Ranger District. If Vogel is convenient for you and the family, please mark June 2 on your calendar and join the combined work effort of the BMTA, MHH and GATC. However, we are beginning a second tradition in 2018 in the Conasauga Ranger District (CRD). From Bushy Head Gap to Double Springs Gap, some of my most memorable hikes have been in the CRD and the Cohutta Wilderness. It is high time we help out with some of the many trail needs in the CRD! So.............if you are looking for a different adventure, then join me as I explore the 26 mile Dry Creek Trail system. These trails are in the far western portion of the Conasauga Ranger District, and include biking, hiking and horse trails as part of the overall system. I intend to scout the Dry Creek system and pick out a particularly nasty one-and-a-half to two mile section of trail in need of brushing with sling blades, loppers, brush cutters and cross cut saws. (while this system is open to chain saws, I prefer use of cross cuts when we have larger groups of volunteers and people unfamiliar with overall saw safety). I am told that terrain is less hilly than much of the BMT, but there are areas of sun exposure that keep portions of the trail system covered with brush. Other trail clubs volunteering June 2 on the Dry Creek System include the Cohutta Wilderness Trail Volunteers and Back Country Horsemen. Next week, I'll send out additional information on Vogel and Dry Creek events, including ride-sharing opportunities for Dry Creek. (HINT -- if you are looking for an easy day in the woods, Dry Creek is NOT your first choice!! We'll work hard for 2-3 hours and then cut off at lunch. (Lunch is provided by the Forest Service and the Back Country Horsemen with contributions from other clubs) But I'll guarantee by the end of the morning, you will make a significant contribution to the Dry Creek Trail System on National Trails Day!
NATIONAL TRAILS DAY, JUNE 2



Next month, the BMTA is moving our normal second Saturday work date to the first Saturday of June, coinciding with the 50th anniversary of National Trails Day on June 2. In Georgia, members and guests of the BMTA will have their choice of attendance at two events: Vogel State Park in the Blue Ridge Ranger District or the Dry Creek Trail System in the Conasauga Ranger District.



BMTA events at Vogel State Park will be coordinated by George Owen and Darcy Douglas, and will include hikes, optional work events on Bear Hair Trail, and a lakeside luncheon where guests are encouraged to bring a side to share.

Participation at the Dry Creek Trail Event will be coordinated by Dave Ricker and Barry Allen. Guests are encouraged to bring a second shirt to replace one that will be soaked in sweat after two hours on the trail. Lunch will come from a large pot over a hot fire, prepared by a bunch of horsemen who know how to enjoy food! No need to bring sides, but bring your boots or your bike or your horse if you want to enjoy some afternoon time on the trail.



We have prepared a short checklist to help with your decision on attendance. Please review the following four questions carefully before making your choice of work venues.



1) My tool of choice is
A. flower spade


B. garden trowel


C. sling blade


D. cross cut saw


E. tungsten steel loppers





If you answered A or B then consider attending Vogel's event. If your tool of choice is C, D, or E, consider joining Dave and Barry at Dry Creek.



2) For lunch on Saturday, I prefer:


A. tea and crumpets


B. spinach quiche


C. fruit salad


D. assortment of cheeses


E. sloppy joes served with a side of heartburn



If you answered A,B,C or D then you may want to drive to Vogel's event and join George and Darcy. If you can tolerate E, you'll be OK at Dry Creek



3) My idea of fun is to:


A. Brag about the number yellow jacket and hornet stings I took on my last work trip.


B. Brag about the last time I ran out of water, got dehydrated and almost didn't make it back to the truck.


C. Brag about which tools have left scars on various body parts.


D. Brag about getting stuck on a Forest Service road, spending three hours draining a mud hole and digging the truck out with a trail hoe.


E. Brag about cutting blow-downs for nine hours then spending nine hours hiking back to the truck while crossing the Jacks River 15 times in the dark loaded down with saw gear.


F. Brag about how nice my yard looks after the spring weed treatment and fertilization.





If you answered A thru E, then join the 'in' crowd at Dry Creek. If your idea of fun is F, you might consider Vogel.



4) After the work day on Saturday, I plan to:


A. Attend a concert at Chastain with a good bottle of pinot noir


B. Watch 'Fun with Dick and Jane' on the DVD player with a good bottle of pinot noir.


C. Have a get-together at my house where we'll serve spinach quiche, fruit salad, and an assortment of cheeses with a good bottle of pinot noir.


D. Drive home while listening to John Fogerty and CCR turned up high to stay awake. Once home, have a cold beer and a cool shower followed by another cold beer. Walk the dogs, kiss the wife, and probably fall dead asleep..........or any variation thereof.........



If you answered A thru C, you know which event to attend. If you answered D or any variation thereof -- then we'll see you at Dry Creek.



After answering these four questions we realize that some of you may be locked in a 2-2 tie, so we have prepared a tiebreaker to aid with your final decision:

On Saturday June 2, I would prefer to work in a location where Darcy is available for questions and answers, gently coaching and improving my work, making me a better trail maintainer and a better person. Amen.



On Saturday morning, I would prefer to have at least 3 hours and 47 ridge-lines separating me from Vogel State Park so Darcy can't see how much damn rhododendron I pruned from the damn trail. Dammit.



If we have volunteers who are still undecided about where to spend their valuable time on Saturday, June 2, then please attend the tremendous event planned for Vogel State Park. I obviously do a very poor job of explaining things.




6/7, Thursday - Tellico/Ocoee Trail Crew - Starr Mtn Horse Trails - The crew may be a little small this week due to vacations and hayfields, but our plans are, if we have enough folks, for two crews: Bobby and Ken are to work on the water turnouts on Hogback Spur with Ken's machine. The second crew will be weedeating on Basin Branch (and lopping). Meet at Maple Springs Trailhead at 8:00. These work plans are a day early due to Tazz being on vacation this week, and he will not be back in his office for emails. Happy Trails, Tazz Reid
6/9, Saturday - Grand Opening of the Maple Springs Horse Trail Parking Lot and Basin Gap Trail-
6/14, Thursday - Tellico/Ocoee Trail Crew - Meet at Maple Springs Trailhead at 8:00. Bobby will be putting in more water turn outs on Hogback Spur, and will need one person to safety watch, dig roots and do finish work by hand. The rest of us will log out, lop out, and weedeat on Basin Branch. Bring plenty to hydrate with. It is going to be a hot one.
6/21, Thursday - Tellico/Ocoee Trail Crew - Ken, Bobby, Ron, and Barb will continue working on the grade dips on Hogback Spur. Those 4 people can meet at the trailhead for their tail gate safety session at 8:00. The rest of us need to meet at Hardees in Ocoee at 8:00. We will go log out about a dozen trees that we have been given a GPS map of, all on the upper portion of Sylco Trail. Come on out and kick of the first day of summer in the woods! Happy Trails, Tazz Reid
6/23, Saturday - TN/NC BMTA Maintenance Work Trip - Sycamore Creek Section
Sections 17a and 17b, Pam and Kent Mathews' sections -- running from Pheasant Field on the Tellico River Road up to FS 61b at over 4200'.

First of all, thanks to those who have committed to the Tennessee work date. We currently have 17 volunteers for the day, and have openings for at least another 10 people if your Saturday is not already committed! (Shuttle drivers and grill masters are welcome and needed!)

After scouting the route, we have decided on two meeting locations for the work day:

1) Pheasant Field picnic area at the Tellico River Trout Hatchery, 3193 River Road, 8:45 on Saturday morning, June 23
2) Cherohala Visitor Center at 225 Cherohala Skyway, Tellico Plains TN also at 8:45 on Saturday morning, June 23

I would recommend the Pheasant Field meeting location if you are concerned about time and need to leave a little early. Your car will be available in the parking area as soon as you step off the trail.

Drivers/Shuttles will leave both locations promptly at 9:00, driving to 61b -- a 45 minute drive from either location. The goal is for everyone to arrive at the start (61B) by about 9:45 so teams can begin work/hike no later than 10:00. We hope to have everyone off the trail by 2:30 and enjoying a burger in the picnic area.

Phil and Debra Guhl hiked the route this past week and flagged sections at just over 1 mile each. We will have four teams of 4-6 people, with each team working just over one mile of trail -- brush-cutter/weedeater, sling blade, loppers. Once teams are finished with their section, they will hike to the final mile of trail; this will be a joint effort by all teams as they hike to Pheasant Field.

For those interested in driving up on Friday, there are plenty of camping opportunities on River Road and North River Road. (most campsites are $5-$8 per night) Some areas along North River Road are free -- all are first come/first serve, and this is a busy time! And we will have a few people driving up to camp at Whigg Meadow and to do a little work around the water sources at Whigg for better hiker access. (Whigg is an alpine meadow at 5000 feet, so it will be a cool evening; I may even cook another batch of Allen's Famous Chili!)

PLEASE LET ME KNOW WHERE YOU WILL MEET THE GROUP (TROUT HATCHERY OR CHEROHALA VISITOR CENTER) OR IF YOU WOULD LIKE TO JOIN THE GROUP CAMPING AT WHIGG MEADOW.

I'll also work to put together a car pool from Blue Ridge to Cherohala Visitor Center, leaving Home Depot by 7:30 on Saturday morning, so please let me know if you are interested.

Barry
6/28, Thursday - Tellico Ocoee Trail Crew - The crew will continue work in the Starr Mtn area. Meet at Maple Springs Horse trailhead at 8 AM.
7/5 - Thursday - Tellico/Ocoee Trail Crew - BMT Sugar Mtn to Bald River Rd - We will be logging out from Sugar Mtn to Campsite 11 on the Brookshire Creek Trail in the Bald River Wilderness Study area. All current crosscut sawyers please bring your saws, axes, wedges, etc. The rest: please bring loppers and/or folding saws. Meet at the Tellico Ranger Station before 8:00. The monthly safety meeting has been changed to July 12th, this month, and it will include a breakfast.
7/14 and 7/28 - Saturday - TN/NC BMTA Maintenance Trip - Sandy Gap to Sledrunner Gap -
"He cried in a whisper at some image, at some vision -- he cried out twice, a cry that was no more than a breath: The Horror! The Horror!"

For those who are old enough to have read Joseph Conrad's "Heart of Darkness" when high school English Lit forced the issue, you may remember that quote. Something about "The Horror! "The Horror! always painted a stark image in my mind. Watching Marlon Brando in 'Apocalypse Now' reinforced the image.

Our own "Heart of Darkness" which includes much of section 16 is a stretch of trail, extending seven miles from Sandy Gap in Tennessee to the next closest access point at Beaverdam Bald -- plus an additional 3 miles through Wilderness Study area. While Beaverdam Bald is not on the BMT, we use a half mile access trail from Beaverdam to reach the BMT for work purposes. I have worked this section on two occasions, and whatever Joseph Conrad meant by "the Horror" can certainly be applied to our own "Heart of Darkness." In my mind, I remember this section as one of the toughest work days I ever put myself through.

In July, I plan to use both the Georgia work date on JULY 14, and the Tennessee work date on JULY 28 to work seven miles of this section, including the access from Beaverdam Bald. Hikers have recently reported this section as almost unhikeable due to the heavy growth of weeds, briars and brambles. Because of its remoteness, this section has not been blazed in years, so blazes are impossible to find in many places. The overgrown nature of the trail combined with the lack of blazes can make this a scary section to hike. We will try to fix both problems with two tough, hard work sessions in July.

On July 14, I plan to drive to Tennessee, taking my Georgia gang onto the trail from Beaverdam Bald on the standard second Saturday. We'll work until 2:00 or 2:30 and exit the trail. On July 28, Ed and Clare Sullivan are leading the Tennessee work day, with me tagging along. We'll pick up where we left off on July 14 and continue the work in the Heart of Darkness. OUR HOPE IS TO FINISH THE SEVEN MILES IN TWO TRIPS, BUT IF WE NEED TO RETURN IN AUGUST WITH THE GEORGIA GROUP, THEN WE WILL.

More details on meeting place and times will follow, but right now, we need to get the word out so we have an idea of volunteer numbers. We definitely need shuttle drivers for those who would like to help, but honestly, don't need to be on the trail for five hours in the July heat.

Tools for the day will be chain saw, brush cutters, loppers, fire rakes, sling blades and paint brushes. Brush cutters will be the primary tool with other tools offering support from behind. We should have six brush cutters running full time. (I intend to run each of these cutters with a two-man team -- if we can come up with 12 volunteers who will make sure these cutters are kept going NON-STOP for 5 hours -- always pushing forward).

The main thing we need is a count of people interested in attending. This will help both the Sullivan's and myself as we try to figure logistics for both days. Please let us both know if you are able to attend and on which dates................

Barry
8/9 - Thursday - Tellico/Ocoee Trail Crew - Starr Mtn Horse Trails - After getting rained out last Thursday, we'll will try it again. If it isn't too wet for the machines, Bobby and Ken will continue on the water turn outs of Hogback Spur. They will need two people to chop roots, etc. behind them. Others will be sawing and swamping a few trees out of Yellow Creek, Starr Mountain, and Basin Branch. Meet at Maple Springs Trailhead at 8:00
8/16 - Thursday - Tellico/Ocoee Trail Crew - Starr Mtn Horse Trails - The weather prophets say the rain will likely allow us to work with the machines on Hogback Spur. Bobby and Ken will need at least 2 people chopping roots behind them (Bobby, bring a couple of the SABCH Pulaski's please). Those who have weed-eaters, bring them and we will brush out Bullet Creek Spur and Bullet Creek Trail on through to the north end of the trail (also the clear-cut area of Bullet Creek Trail. Meet at Hogback Spur Trailhead at 8:00 or at Maple Springs Trailhead at 7:45.
8/25 - Saturday - TN/NC BMTA Work Trip - Section 17d along Cherohala Skyway - Please join us on Saturday, August 25 as we work section 17d of the lovely Benton MacKaye Trail. This section parallels the Cherohala Skyway for most of its three mile run near the Tennessee/North Carolina state line. 17d is best worked by two teams working from each end toward the North River Rd crossing -- the approximate middle of the section. With good turnout, we should have this 'puppy' licked by 2:00 -- just in time for refreshments -- or something more -- in nearby Telico Plains (home of Buckets and Brews). Plan on meeting at the Cherohala Visitor Center in Telico Plains at 8:30 or at the Unicoi Crest Overlook near Beech Gap at 9:00. (The Georgia Gang will be meeting at the Home Depot in Blue Ridge at 7:15, and will car pool to Telico Plains). Over a year ago, at the last work event on 17d, just beyond the trail crossing of North River Rd, we walked to the grave of an unknown man who Ken Jones reported was killed by the Kirkland Bushwhackers. The Bushwhackers were one of the most notorious gangs of the Civil War era. Made up mostly of deserters, the Kirkland Gang robbed and even killed many families whose men were away fighting in the war. John Jackson Kirkland was never tried for his crimes, which included killing infants. Lawmen said it would be 'suicide to cross his property line in pursuit.' He died in 1902 of natural causes -- a truly vile human being. Ed and Clare Sullivan will again be helping to lead this event. Please give them your support by pitching in to clear these three miles of trail. We'll need two teams of sawyers and plenty of Brush-whackers! As always, an RSVP is helpful so we can plan for tools, hardhats, etc.